Deltas for Google Analytics

(Google Sheets add-on)
Easily find the biggest deltas to get valuable insights.
Easily configure reports and sort the deltas for the dimensions and metrics that matter to you.
Comparing periods in Google Analytics and finding the biggest deltas can be time consuming, especially for dimensions that have many rows. This add-on solves just that. You can easily configure reports and sort the deltas for the dimensions and metrics that matter to you. Insights into these deltas will help you discover threats and opportunities quicker.
Discover changes faster
Flexible report builder
Report tables sorted by deltas
Delta insights dashboard
Schedule email summaries
Receive delta alerts
Build your reports
When you use this add-on for the first time, you will see that we have supplied basic report configurations which help you get started. You can easily search and select dimensions and metrics from a dropdown to edit reports or create your own. Your custom dimensions, custom metrics and active goals are included in the dropdown, to make it easier for you to add.
The report displays the dimensions and the metrics for both periods. A delta column is added for every metric. The columns are sorted on the delta column of the first metric.
Receive weekly delta alerts
You can turn your report into a email alert that is only send when the delta is bigger than the minimum delta threshold. To create a delta alert follow these steps:
Create a report by adding a row to the settings sheet.
Include the dimensions and metrics you care to monitor (e.g. ga:productName and ga:itemQuantity).
Set the min delta (e.g. setting the min delta to 50 ensures you will only receive an alert when itemQuantity increased or decreased with at least 50).
Set the column Email (column U) to "Yes", to indicate this report should be included in the email alert.
Set a dynamic date ranges e.g. last week compared with previous (which will compare last weeks data to the week before).
Select "Schedule" from the add-on menu (Add-ons -> Delta for Google Analytics -> Schedule). And set the schedule to run every Monday.
Based on this settings you will receive an email alert on Monday when there is at least one product which sales have increased or decreased with at least 50.
Fine tune your reports
To fine tune your reports you can add segments and filters. Normally, Google Analytics only allows you to filter on the main period and not on the compared period. However, this is possible using this add-on and it helps you to get more relevant results.
You can add a minimum for the delta, which acts as a filter on the delta column. For instance, you can include only rows where the delta of the sessions is higher than 100. You can also limit the number of results.
Dashboard, email and more
By default the reports are displayed in the deltas insights dashboard. You have the option to have the reports written to a different spreadsheet for integration with other tools like Google Data Studio.
You can also set a schedule to have a summary of the reports sent to you by email periodically. This helps you to stay informed.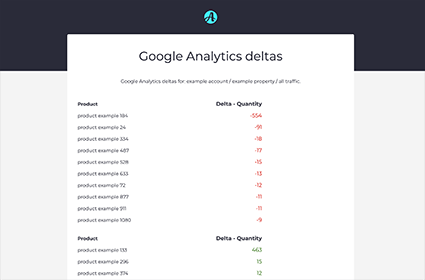 Terms
You can use this Google Sheets add-on for free. We will introduce a subscription model in the future.
For more information please visit our terms and conditions and privacy policy.
If you need help, if you have feedback or if you want to report a bug? Please contact us.